Aries 32 - Thistledown
the mexican flag flying from the starboard spreader as I sail into mexico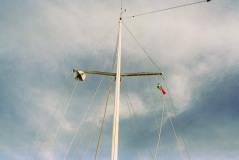 the streets of the town in half moon bay mexico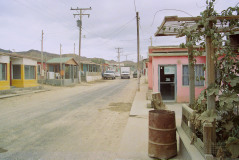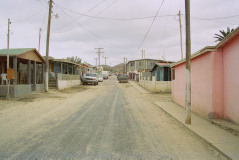 a little catamaran thingy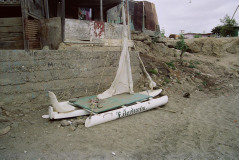 thistledown, in the anchorage in half moon bay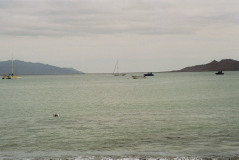 someone needs a better anchor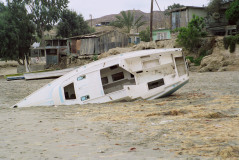 flying my new spinaker (bought it in san diego, this is sailing into half moon bay probably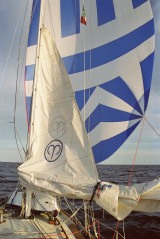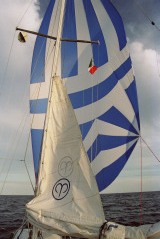 I think I took this picture as my first sight of land sailing from baja to the mainland... I'm not totally sure though. If it's what I think it is, it's some little island just before banderas bay, where la cruz de huanacaxtle and puerto vallarta are... where I stayed for about a month.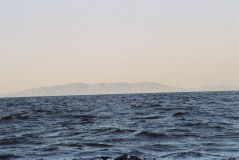 found lots of squid on deck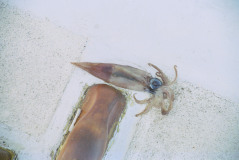 took marisa and cheli for a day sail in banderas bay. Marisa is italian and speaks spanish with a weird accent so I don't understand her very well, but talking to cheli helped me with learning spanish.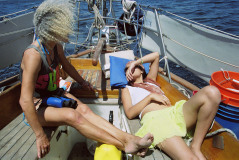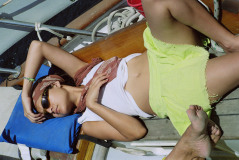 the bar on the beach in la cruz de huanacaxtle (in banderas bay, near puerto vallarta) where all the gringos hung out... cheli worked here, and nicholas' band played here.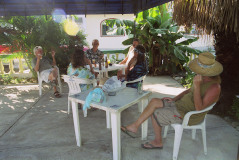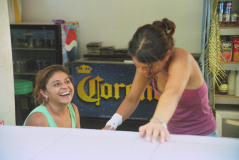 looking out into the anchorage from the bar. you can see my little el-toro to the right on the beach.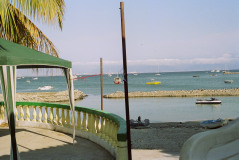 lots of flying fish jumped on deck as I was crossing the pacific.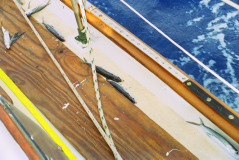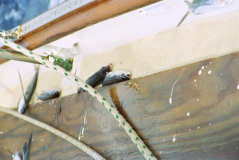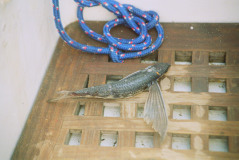 I took this picture of myself after cutting my hair... somewhere near the equator, in the doldrums with the sail down. It was difficult to focus the manual camera without looking through the lens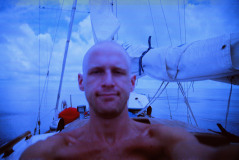 someone blew up a gerbil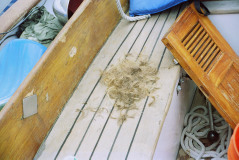 I think that's rain you can see just pouring out of the cloud... I thought it looked cool how you could see the rain as this isolated weather event in the distance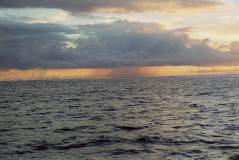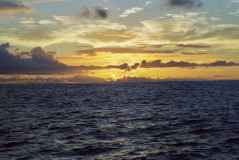 the little bird that broke a wing or something and ended up shivering in my cockpit for a while. You can see the little capfull of water and flaxseed I gave him... he ended up abandoning ship though seeming to think he could fly with his broken wing. oh well. would have made a cool pet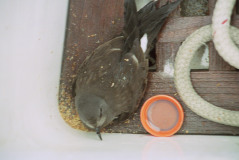 I tried to get a picture as it read all zeros, but it never did it. it jumped right from 00.001'N to 00.001'S. I couldn't even manage to take that picture right though. oh well. you get the idea.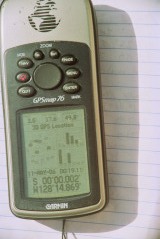 baked a couple of loaves of bread at sea.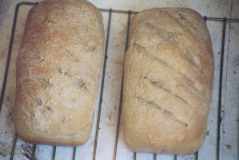 as you can see I'm not very organized. they say you should have everything lashed down while at sea. I just left everything out, piled ontop of my icebox... stuff would fall on the floor and sometimes I'd pick it up and sometimes I'd just leave it. I'm getting better about keeping organized though.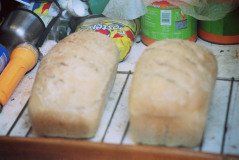 this is the puffer fish I caught when I was almost to the marqueses.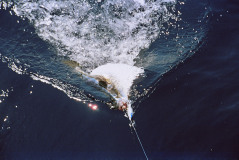 you can see all the spines on his belly... those are poisonous I think. I took the hook out with pliers and threw him back, but by the time I did it he was dead.. so I felt bad and gave up on fishing for a while. the picture is kind of messed up because it was the end of the roll of film.