Aries 32 - Thistledown
Micronesia to the Philippines
first sight of land in kosrae, the first island I stopped in in the federated states of micronesia: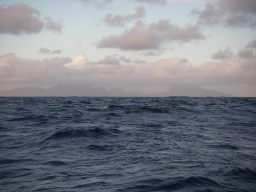 two other boats anchored in Kosrae.. the one on the left is "liv," with a norweigan couple onboard that I'd met in kiribati.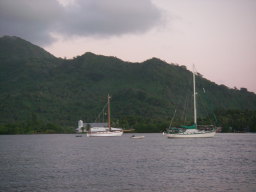 looking at land from the anchorage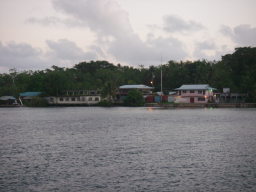 The inauguration ceremony for the new governor. Free food!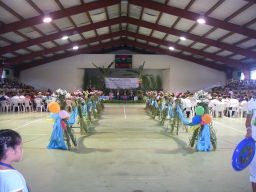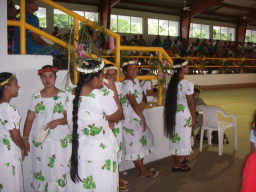 The couple from "Liv."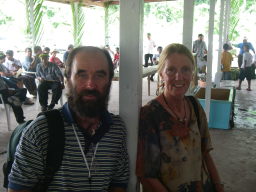 a cute little hyper-active girl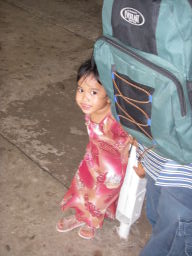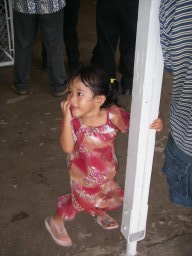 then I arrived in Pohnpei, the capital of micronesia, where I mostly hung out with chris and eddie, two guys that were delivering a boat from cali to hong kong. We rented a car to see the sights. These are the ruins of nan-madol: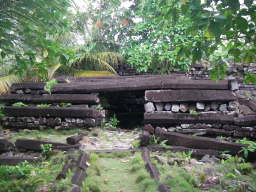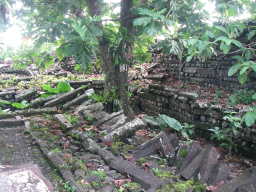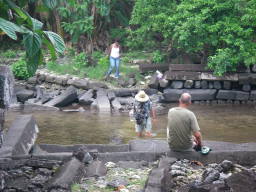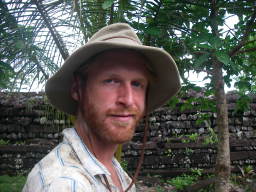 I tried some beetle nut. weird stuff that you chew with a leaf and some groud coral (to cut your cheek so you absorm more of it).. it's supposed to be sort of like an opitate or something but it didn't seem to do much to me, asside from making my spit red.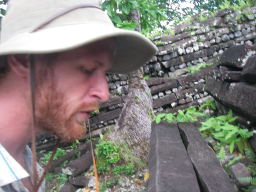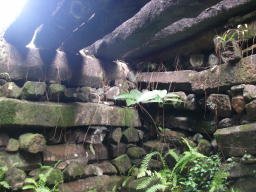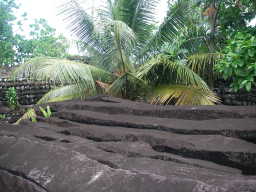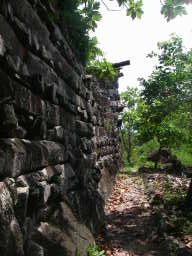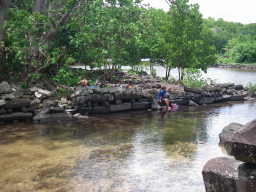 Lisa was the bartender at "rumors" bar. She came along, and helped us find the best places to go.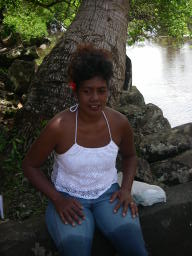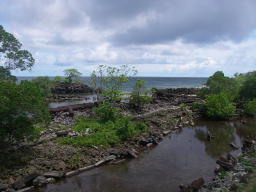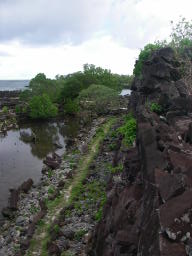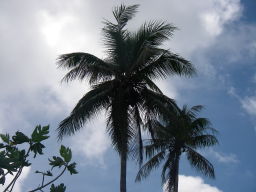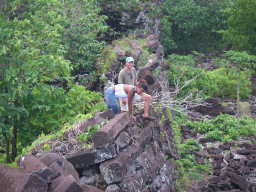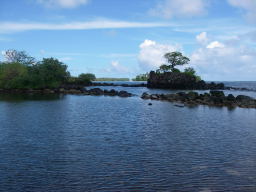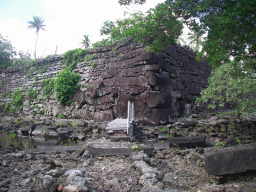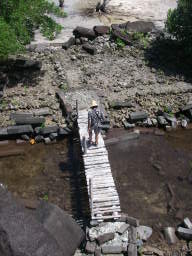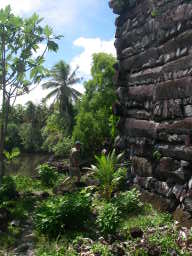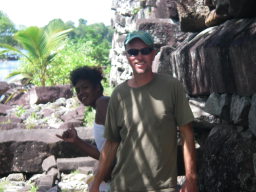 I think this is one of the nicest waterfalls I've ever seen...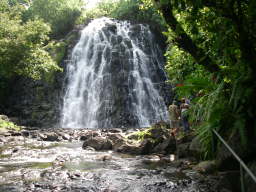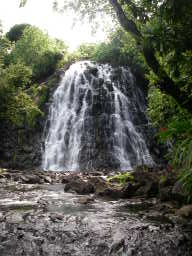 we hiked up the ridge and took some pictures from the top: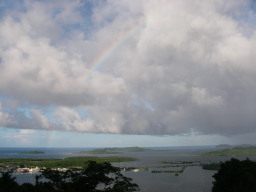 My boat is the one farthest to the left... I often don't go all the way into the anchorage because I'm under sail. Chris and Eddie are on "jessican lyn," which is the boat to the right of me, and Jim is on the boat right behind me (Jim is a guy I met in Kiribati).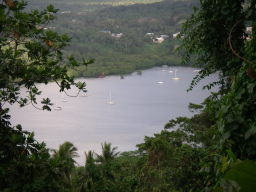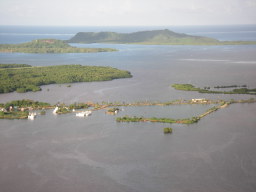 the left opening to the reef is where I came in. it was a hard beat right into the wind on an outgoing tide.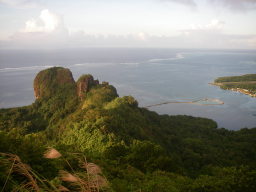 reminds me of the "lonely mountain" in "the hobbit."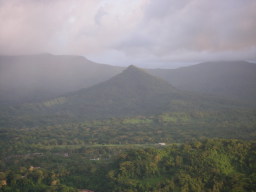 tied up at the wharf to check out of micronesia, ready to set sail for the Philippines!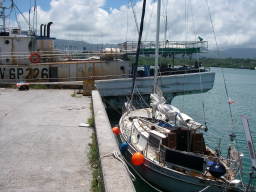 wow, look at the size of those yellow fin!
can you see it? there are three lights. the top two are steaming lights... any ship over 50 meters has two steaming lights. the one on the right, which looks white, is actually red... it's the port side running light.
When you're 1,000 miles from anywhere, and the moon is not out yet, and it's the middle of the night, and your battery is at 11.8 volts and your running lights are flickering and your vhf doesn't work... you don't want to see a ship this close.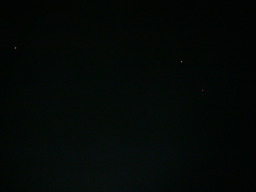 what's this drum doing out in the ocean?? that was pretty far from anywhere. Someone told me that fishing boats would somehow secure large drums of fuel out at sea, to leave to use later... I don't know how they secure them, but it's certainly a navigational hazard. I'm supprised I even saw one, it dissapeared under the waves in the distance within a few minutes of passing it.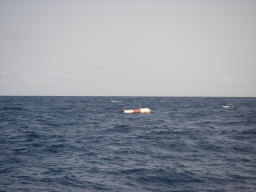 people fishing in little outrigger canoes: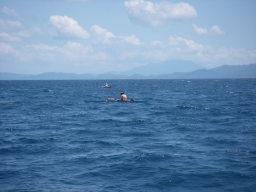 first I anchored in Maasin, on the island of leyte, in the philippines. This is Maasin, from my anchorage, when I arrived (on good friday).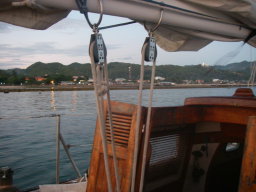 This girl, Francis, works at a hamburger joint I was frequenting. She works 10pm till 6am, and then does paperwork for the business until noon. She also has a three yera old daughter. I got lunch with her once at a place called kinimot.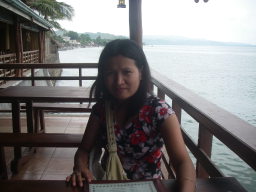 Me, Julie, Joanne, and "tatat" made a trip to some little resort area called "paradise."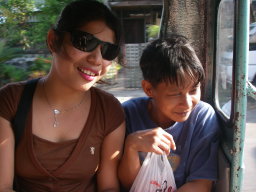 The first time I saw "tatat" smoking a cigarette I said "how old are you?!?!?" It turns out that SHE is 18 years old and has a one year old daughter. She's a lesbian, but, as was explained to me "she's a tomboy, and so her friends are guys, and ... she's the only girl... so... she doesn't know who the father is." I'm getting the impression that there are more gay/lesbian people in the philippines than in san francisco or provincetown. I wonder why.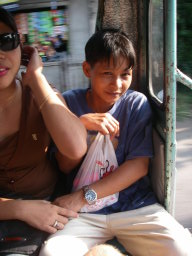 Julie...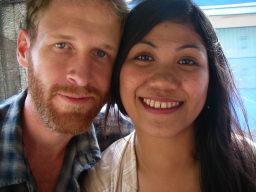 at the resort..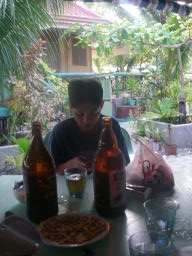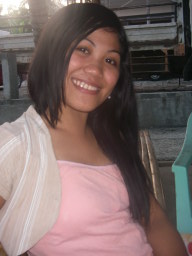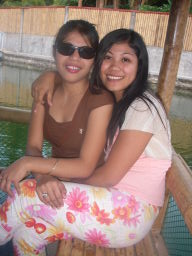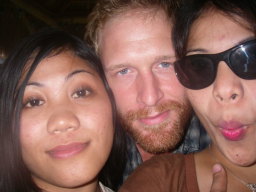 this guy took me out to some local philippino food one day. He was cool.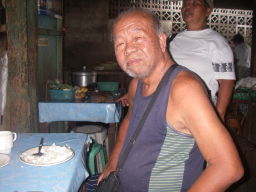 a kid who worked at the lunch place.