Aries 32 - Thistledown
This section is from when Jill left Kiribati, until I left to sail to Micronesia... including a trip home to visit Jill in DC, visit family and friends in boston, and to visit friends in San Francisco.
In Kiribati I did a little boat work... I found some rot in the decks, so I removed the rotten bits, and glassed over the holes in the deck.
first, I get rid of the rot: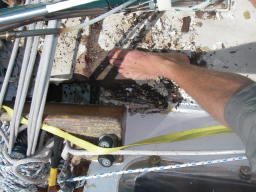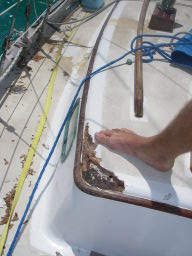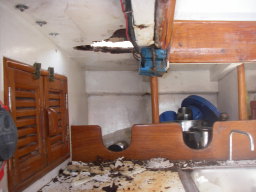 Then I glass it in: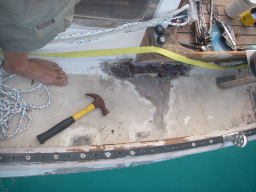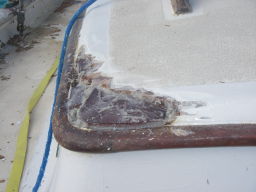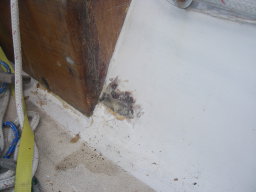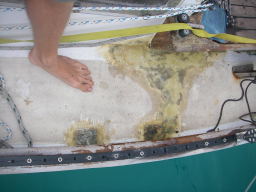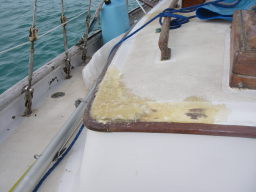 I guess I didn't take any "after" pictures after I faired and painted it.
We met a guy named mike who has a boatyard in Kiribati, off part of north Tarawa, by an island called Abatao. In addition to building luxury catamarans, he raises giant clams that he exports to germany for use in aquariums.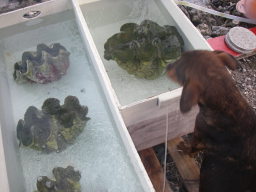 some pictures from the boatyard: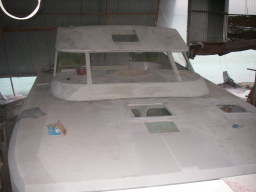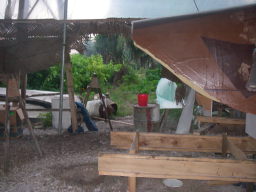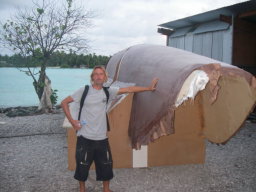 mike lives in this little hut... it's over the water so the breeze will keep it cool, and to keep the mosquitoes away.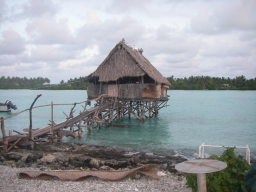 lindsay from the peace corp went for a day sail with me in my dingy one day: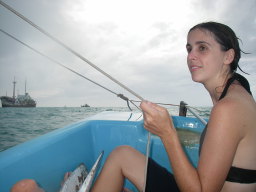 the main road of Tarawa... to the right is the lagoon, and to the left is the ocean. such is life on a little atol.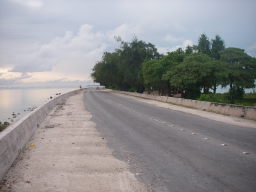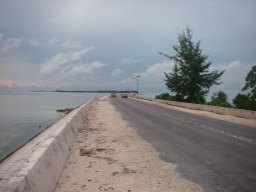 some kids that herb and I hung out with in "taiwan park" after the bars closed one night.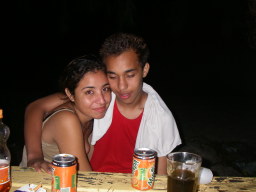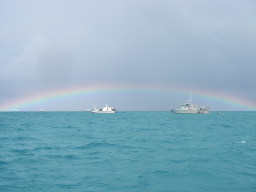 I moved my boat to north tarawa, and anchored near Mike's boat yard in abatao while flying home for christmass etc. This is the view of the boatyard from my boat.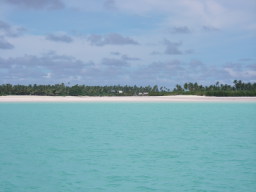 I missed my flight, and was still in Kiribati on Christmass morning. It was fun. I had a few beers with herb and mike and some of the other guys from the boatyard.
roman, the guy on the left, is in charge of the clams. The guy on the right was very drunk that morning, because he was upset about not being in australia (he also missed his flight). Later on he was to get in a fight with a bouncer at the bar downtown, and ended up leaving the country with a broken jaw. shitty.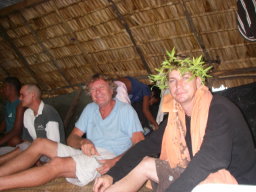 the kids were doing some traditional dancing... they're actually wearing peel-ply from the boatyard :-)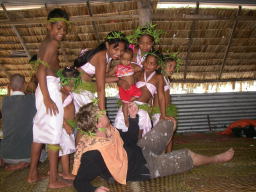 Those christmass hats seem a little funny on the equator.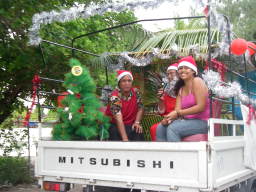 the narrow strip of land that is the atol... looking out the window while flying from Kiribati to Majuro in the Marshall islands, the first hop on my long trip home.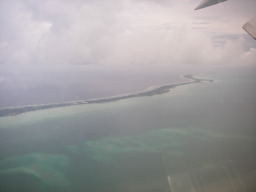 I didn't take many pictures while in the US.
This is Jill, and her neice and brother-in-law.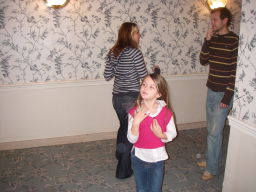 My mother, knitting on her way to work... I took the train into boston with her.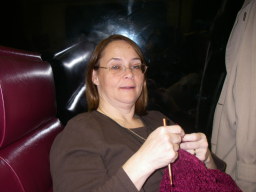 I used to come to this arboretum regularly when I was in grade school.
Anna, a neuroscience professor I met who was doing a conference in boston. I'm pretty interested in neuroscience, and she was pretty cool.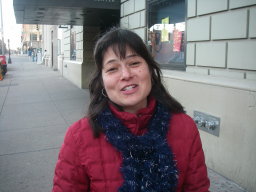 friends in San Francisco, hanging out at "the gold cane" on haigh street.
erin (who sold me my santana 22... and who I used to sail with when in SF):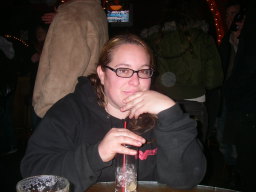 mike (mike and jana drove cross country with me when we graduated):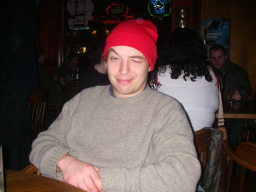 jana: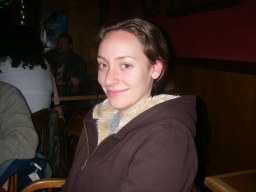 david (who sailed with me at the begining of this trip, and used to work with me at snapfish):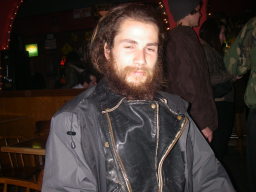 on the way back to Kiribati, I stopped in the marshall islands again, and took some pictures at the museam there. People used to use these "stick charts" to navigate... or... at least to pass on information from elders to newer navigators. They explained a way of navigating by currents and cloud patterns etc.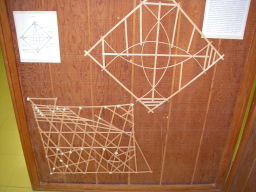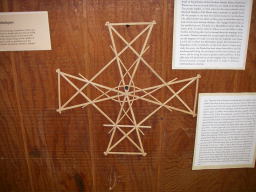 a model outrigger canoe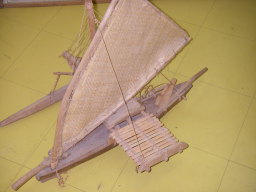 a traditional crab trap or something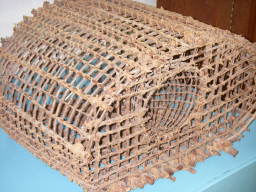 artilery from wars fought there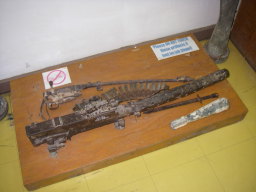 I returned back in Kiribati just in time to watch Mike's boat yard (kiricraft) launch their first boat: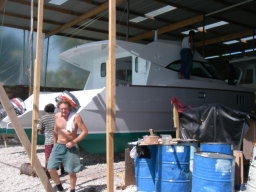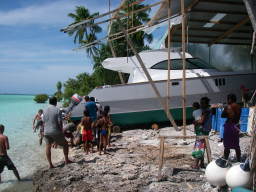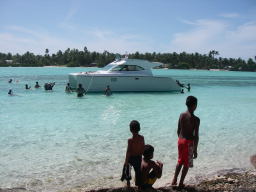 father and son out net fishing for some lunch: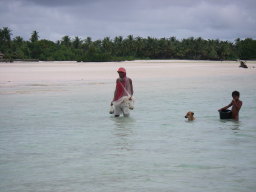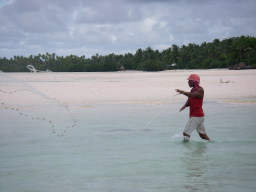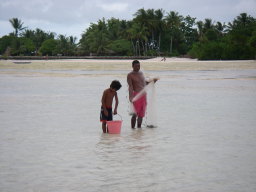 on my way back to the boat late at night, I would drag my dingy behind me as I walked in shallow water for a long ways... often I saw sea snakes. I think they're poisonous, but they usually swim away from you.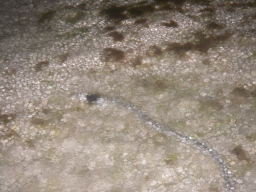 a samoan woman at the bar in Kiribati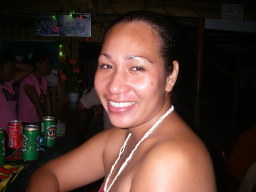 a traditional canoe sailing past herb's boat